Will you be tired of watering your garden and lawn manually in hot summer? Do you want a tool to help you to give your plants a drink and you can have more time to do other thing? Do you wish a toy that you can play with your kids and dog outdoor?
Lawn sprinkler can be used for lawn, agriculture, nursery and grass irrigation, compatible with home, garden, yard, roads, greenhouse watering and cooling.
It can be rotated 360 degree to make sprays, the way that it spins, it help your plants a drink water. It is very quiet, it sounds like slight rain and sprays like dancing

MAIN FEATURES
☆ [Immense Coverage Distance]
The automatic sprinkler is allowed to connect 2 or more lawn sprinklers for more spray coverage and better lawn care to you.
☆ [Sprinkler For Yard And Agriculture]
The lawn sprinker must be a great choice for you to irrigate lawn, garden, trees, agricultural land and tall plants. It's also a sprinkler for kids entertainment. Imagine have fun with your kids at the same time while irrigating lawn in summer, how a nice parent-child time!
☆ [Adjustable Rotating Sprinkler]
Built-in 3 adjustable rotating arms sprayer, which can be rotated in straight and oblique states.
☆ [Easy To Use]
The garden sprinkler come with a quick connector fitting to work with your traditional rubber hose or thread hose ,just connect the garden sprinkler directly to use.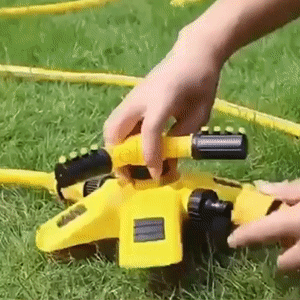 ☆ [Save Water And Durable]
Compared with ordinary irrigation methods, up to 70% of water can be saved! The lawn sprinkler uses 360°rotation and four nozzles to spray, make full use of all the water, and completely water the garden, field or lawn to avoid waste. And the yard sprinkler well built with strong ASB engineering plastic to keep great durability and stability.
SPECIFICATIONS
Material: ABS
Color: yellow/black
Plug: nozzle (ordinary hose)
Type: 360 degree full rotation circle
Spray height: 2.5-3m
Spray diameter: 10-15m
Size: about 18 x 20.5 x 9cm